You can choose to add an additional layer of security to your account known as "Multi Factor Authentication (MFA)". With MFA enabled, you use your username and password to log into your portal, but you also use your mobile phone to verify that it's you logging in.
Moneymgmt's MFA requires you to enter a temporary code from an Authenticator app (e.g. Google Authenticator App) that you install on your mobile device.
MFA setup is optional.
To enable MFA:
1. Install the Google Authenticator App onto a mobile device. This is located in the Google Play store or Apple App Store.
2. Set up an account within the app if you have not used it before
3. Choose + then Scan barcode
If you are choosing MFA:
To make this feature available in your portal follow these steps:
1. Go to the Settings cog (downward arrow at the top right of page).
2. Click on Security Settings.
3. Click on 'Setup MFA'.
4. When the barcode appears, scan using the Authenticator app and a code in the app will be generated.
5. Enter the code in the box and click 'Verify device'.
6. From here, the authenticator will add your login email and code on your device.
7. Complete the Setup security questions and recovery email box .
8. Once completed, you will receive notification your setup was successful.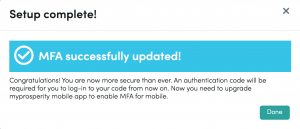 You are now ready to use MFA every time you login!
Note: If you don't have your mobile device and need to login, once your username and password have been entered on the authentication code page, you can click on 'Answer security questions' instead. Simply answer the questions you have set up previously, and click 'Verify'.
How to Disable MFA?
To disable MFA in your portal go to Settings/Security Settings and click on the Disable MFA button in RED. This will give you a pop up confirmation screen, click Confirm.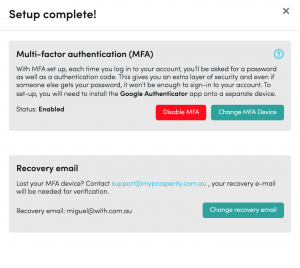 How to set up a different device or change the recovery email and security questions
You can change your mobile device, adjust your recovery email or alter your security questions and answers.
1. Log into your portal using your current device or security question answers.
2. Click on the Settings cog.
3. Click on Security Settings.
4. Click Change MFA Device or Change recovery email.
5. Follow the prompts and complete.