From time to time it is recommended that passwords are changed to keep secure. Passwords can also be forgotten, so a change/reset will be required.
To change/reset  your password from the login page of the portal:
1. Navigate to the wealth portal login page.
2. Add your email address associated with your login.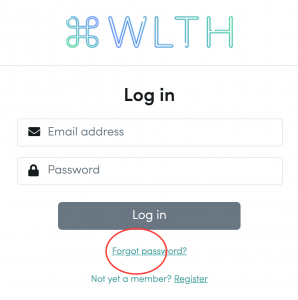 3. Click on Forgot password.
4. You will be asked to re-enter your email address and confirm you are not a robot.
5. Click Reset my password.
6. You should receive an email within minutes to assist with resetting your password.
You can also change your password from within your wealth portal.
1. Navigate to the Team section of the portal. Click Team.
2. Select yourself in the team area.
3. On the Account Details tab click the Edit account details button on the bottom right of the box.
4. Enter your current password, then your new password, and finally re-enter your new password in the appropriate dialogue boxes.
5. You can also add your Security questions if you wish to make your account more secure.
6. When done, click on "Save " to save your new password.